The Niryo One Mini Robot Conveyor Belt enables you to create a prototype of an automated, bidirectional, speed-adjustable production line. It is used in conjunction with the Niryo One robot or a controller module compatible with it.
     

Main characteristics:
Bidirectional drive (forward and backward)

Adjustable speed

Autonomous

Fits in the Ned / Niryo One Ecosystem
    Controlling the conveyor:
The conveyor belt can be controlled by the robot or independently
with the robot :
Connect the conveyor to the robot

Choose your programming method


(Niryo Studio, Python API…)

You are ready to control the production line.
Optional : Mount the photoelectric switch on the conveyor
Connect it to the robot
Independently:
Connect the controller module to the motor

Plug the power supply in

The conveyor is working in autonomy.
Use the variator to adjust the direction and the speed
Optional : Mount the photoelectric switch on the conveyor
Connect it to the controller module
The contents of theVision Standard Set niryoNED2 pack:
The Niryo one Mini robot Conveyor Belt is available in two versions: Standard Version and Education Version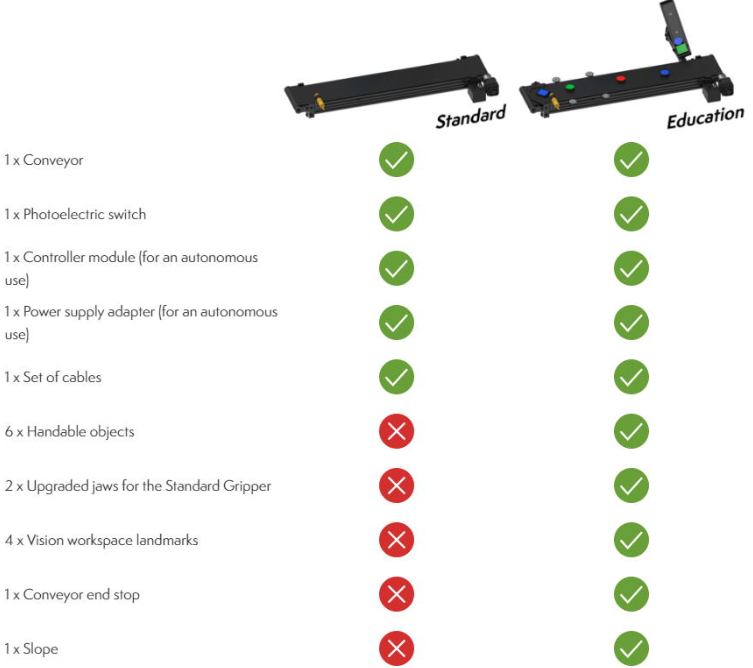 conveyor 
| | |
| --- | --- |
| Specification | Value |
| Effective Delivering Distance | 700 mm |
| Dimensions | 712 mm × 225 mm × 60 mm |
| Direction of movement | Bidirectional |
| Maximum speed | 38 mm/s (reduced in autonomous mode) |
| Maximum payload | 2 kg |
| Drive Mode | Niryo Stepper Motor |
| Control Method | Niryo One Studio / Niryo Studio / Python API / Niryo One Modbus / Arduino |
IR sensor
| | |
| --- | --- |
| Specification  | Value  |
| Power | 4.5 V – 5.5 V |
| Signal | Digital input |
| Range | 6 cm – 80 cm |